120,000 sq.ft.
$12M Construction Cost
Completed July 2001
SCO provided…
Mechanical
Electrical
Plumbing
Architect
Woolen Molzan & Partners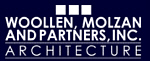 The State of Indiana renovated the Pendleton Correctional Facility cell houses in phases. Cell House G was renovated by completely removing the existing cells and all mechanical and electrical systems. New air handling units, exhaust fans, plumbing fixtures, electrical service, and lighting were installed. All utilities to the cells are accessible from a central utility chase. The facility is served by it's own water tower and campus utilities. A new pressure booster pump was added for the domestic water to all the cell houses.